Lesley Cave '64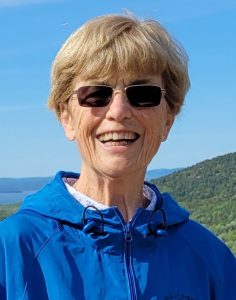 Lesley Ann (Cave) Klishis of Morgantown WV died unexpectedly on June 20th, 2023.

She was born in Keyser, WV only because Luke, MD didnít have a hospital, and she enjoyed the coincidence of ending up back in WV. An Air Force brat, she went to school all over the US, as well as Europe, and graduated from Dreux High School, France (1964). She then went back to Luke, MD to live with her grandparents while attending college. She graduated from Frostburg State College (1968) with a degree in elementary education, and later went on to receive a Masterís degree and then a PhD from WVU.

Knowing from a young age she wanted to be a teacher, she taught first in Fayetteville NC while Mike was serving in the Air Force. After moving to WV, she taught combined 5th and 6th grade in Grafton where her daily commute taught her how to drive WV roads. After a brief hiatus from teaching, she taught 5th grade at St. Francis Elementary, then taught at Mountainview Elementary until she retired.

She is survived by her sister Rae (Cave) Duckworth, her brother Ralph Cave, a sister Renee (Cave), her son Brian, her daughter Michelle, and her beloved grandchild Jules.

She was predeceased by the love of her life and husband of 53 years, Michael. His obituary can be viewed at https://hastingsfuneralhome.com/tribute/details/3681/Michael-Klishis/obituary.html#tribute-start. She is also preceded in death by her parents Robert Kenneth and Beth (Harriet Elizabeth Young) Cave; and her beloved grandparents Gam (Pearl Marie) and Bumpa (Joseph Henry) Cave.

After retiring she spent much of her time volunteering at many places, including the Morgantown Public Library, the WVU Family House, and Ruby Hospital, because she loved helping others in any way she could. She was unable to walk through any building in Morgantown without running into a former student, a parent of a former student, or someone with whom she had volunteered.

In her fifties she took up running and participated in many half-marathons up and down the East Coast, and in the past decade usually took first in her age class (generally she was the only one in her age class). She started traveling after retiring and visited many national parks across the US, first with Mike and then, after his death, on her own.

She was complicated and caring and giving and will be missed by many.

In lieu of flowers, the family requests donations to Rosenbaum Family House, the Morgantown Public Library, or to your own favorite library. And that you read a book to a child in your life.

In keeping with her wishes, cremation arrangements have been provided. Friends and family will be received at Hastings Funeral Home, 153 Spruce St., Morgantown, on Monday, July 10, 2023 from 4-7 PM. A private family committal service will take place at the WV National Cemetery at a later date. Online condolences can be made to the family at www.hastingsfuneralhome.com.