Michael Richard Skomswold '67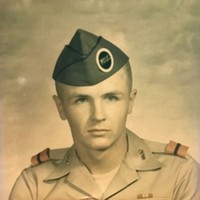 (photo from his obituary)
October 25, 1949- September 13, 2018
Michael R. Skomswold, age 68, passed away on September 13th at his home in Leander, TX. He was born October 25th, 1949 in Duluth, Minnesota. Mike aided and flew helicopters while serving the Army, as a CW2 in Vietnam, from November of 1969 to January 1972.
Michael operated as a maintenance worker for a local school district and was an avid cyclist. He would constantly be out riding with his friends and enjoying the beautiful Texas scenery. His love of staying active and the outdoors led him to meet and touch the lives of so many. Mike truly lived life to the fullest and met every hardship with an insatiable determination to overcome and conquer. His strong sense of self and purpose will live on in the hearts of his friends and family.
He is survived by his mother and step-father, Lois and Henry Lantgen; siblings, Michelle Lantgen and Craig Skomswold; and several nieces and nephews.
To quote one of Mike's favorite novels, "The ones that love us, never really leave us."
Funeral Service will be held on Saturday, September 29th at 3:00 pm, at Schertz Funeral Home, 2217 FM 3009, Schertz, TX 78154.