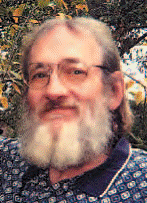 Jack W.Williams Jr.
Jack W. Williams, Jr., 61, of Ojai, died Wednesday, April 16, 2008, in his home of apparent
heart failure. He was born Oct. 10, 1946, in Long Island , N.Y. , and was known to his friends and
family as "Bill."
Mr. Williams is survived by his sisters and brothers-in-law, Jackie and Horst Ringhof and Jane and Rob Wedin, all of Ojai; brother and sister-in-law Roy and Laurel Williams, of Ventura ; nieces Roberta Petersen, Heather and Kristin Williams; and nephew Nicholas Wedin.
He was preceded in death by his father, Col. Jack W. Williams, and his mother, Elizabeth J. Williams.
At his request, there will be no memorial service. In lieu of flowers donations may be made to your favorite charity.
From the Ojai Valley News - May 2, 2008