Alfred "Butch" Wickline '67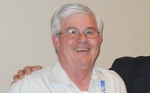 Alfred N. Wickline, 63, of Herndon, VA, died Saturday, June 16 (2012) at his home. He was born Feb. 2, 1949, in Ronceverte, WV, the son of the late E.V. and Elizabeth B. Wickline of Lewisburg, WV. He attended Lewisburg public schools, Dreux American High School in France, and Princeton, WV High School, from which he graduated in 1967. He attended West Virginia University and Alderson Broaddus College, receiving a masterís degree in agronomy and soil science from West Virginia University in 1978. He was a veteran of the U.S. Army, serving in Taiwan from 1970 to 1973. He was a member of the National Groundwater Association and Beta Theta Pi Fraternity.
He recently retired as an environmental conservationist and project manager for Science Applications International Corporation (SAIC) where he participated in major pollution reclamation projects for thirty five years, including the Stringfellow Acid Pits and the former Nevada Test Site.
He is survived by his wife Susan C. Wickline, his daughters Beth Wickline of Herndon, VA and Megan Wickline of San Diego, CA, his son Kevin Wickline of Herndon, VA, his sister Barbara Rasmussen and her husband Norval of Morgantown, WV., brothers in law Willard Cruser and his wife Susan of Blawenburg, NJ, and Charles Cruser and his wife Donna of Hamilton, NJ, nephews Glenn Cruser, also of Hamilton, Christopher Rasmussen and his wife Renee of Cromwell, CT and nieces Sarah Knob, April Sabo, Amy Cruser,¨ Sara Rasmussen and her husband Julian Cheslock of Charlottesville, VA, and nine great nieces and nephews.
He is also survived by two uncles, his namesake Alfred L. Wickline of Princeton, WV, and Frank Wickline of Shady Springs, WV.
Visitation will be held Friday evening from 6-8 p.m. at Adams-Green Funeral Home, 721 Elden St., Herndon, 20170. Services will be held at 11 a.m. Saturday, also at the funeral home. Cremation services will be provided by Adams-Green. In lieu of flowers, the family suggests donations to the American Diabetes Association.