Charles Arthur Mills III '65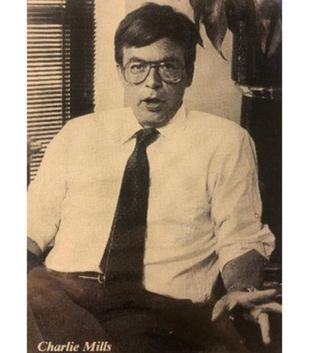 MILLS, Charles Arthur III, passed away peacefully on January 13, 2020, in Richmond, Virginia, after a brave fight to overcome surgical complications, surrounded by family and expressions of love and prayer.

Born January 20, 1947, in Long Beach, California, Mr. Mills was the eldest child of Naval Capt. Charles A. Mills II and schoolteacher Maxine Mills. He spent his childhood with his sister, Kathryn Mills Roettger; and brother, Cdr. Jack Mills; stationed in exotic places like Gibraltar and Hawaii, before the family eventually settled in New Jersey. Stationed out of Norfolk, Va., Mr. Mills served in the Navy during the Vietnam War on the USS Saratoga and discovered a talent for probabilities and gambling, which he then translated into a successful career as a self-taught stockbroker. Mr. Mills was known for his ethical and decisive decision making. He built a prosperous business practice spanning multiple decades and sectors through hard work. Charles Mills was featured in Barrons for foreseeing the Crash of 1987, was named as one of the "Top Ten Stockbrokers in America" by Registered Representative Magazine and also served as a Director of three public companies: Humphrey Hospitality Trust Inc., Virginia Gas Company and Commonwealth Biotechnologies Inc. Mr. Mills also served as a Director of Pioneer Federal Savings and Loan from 1985 to 1987 and of Koger Equity, Incorporated, a real estate investment trust from 1992 to 1993. He was Chairman and President of Mills Value Advisor, Inc., a registered investment advisor and managing partner of several hotel investment companies.

He loved music and was quick to dance, and often quoted from history books he would devour. When not avidly reading, he could be found still playing the odds at a poker table until the early hours of the morning. He found great joy in the water and beaches of the Outer Banks of North Carolina, where his ashes will be scattered in the Atlantic Ocean by friends and family in a celebration of his life.

Mr. Mills is survived by six children, Charles A Mills IV, Meighan Mills Stone, Christina Mills, Braxton Mills, Gabrielle Mills, Garrick Simmons; and three grandchildren, Moses Stone-Amgott, Nick Simmons and Alex Simmons.

A Celebration of Life event will be held this Saturday, the 18th of January. All those who are compelled to come are invited to join family and friends at 2 p.m. in the Pier House Event Space at the Hilton Garden Inn, 5353 N. Virginia Dare Trail, Kitty Hawk, N.C. Online condolences may be left at billupsfh.com.
Taken from the Richmond Times-Dispatch, Richmond, VA