Drake Slay '68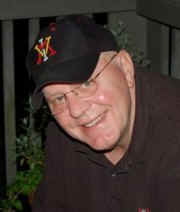 WILLIAM DRAKEFORD "DRAKE" SLAY
SLAY, William Drakeford "Drake," of Alexandria, Va., passed away unexpectedly on December 31, 2011. He was the fiancee of Jean Clark, of Silver Spring, Md., and the former husband of the late Rosalind Jewett, of Baltimore, Md.
Drake, as he was affectionately known to his family, friends and colleagues was born at Marine Corps Air Station Cherry Point, N.C. on March 21, 1950, the son of the late Colonel Robert Duncan Slay, USMC, and Jane Mulherin Slay. He attended The American School in Dreux, France and graduated from Petersburg High School in Petersburg, Va. He was an alumnus of both Virginia Military Institute in Lexington, Va. and the University of the South in Sewanee, Tenn.

In 1980, he married Rosalind Jewett. Together they had two daughters whom they brought up in McLean, Va. Drake was a dedicated father, always ready to lend his skills to building everything from snowmen to entire playgrounds. His love of nature shown through in the numerous trips to national and state parks that he organized for his family. He and Rosalind divorced in 1995, but he remained a very present part of his daughters' lives. His daughters fondly remember his keen ability to show them the humorous side of anything. Drake began his long and distinguished career in construction and real estate development as a carpenter, which took him to several southern states and for a short time, Saudi Arabia. Drake went on to become a project manager for Asset Quality, working for numerous companies including Cort, AIMCO and his latest position with UDR, Inc. Drake was well known as the man who always had a "Plan B" and encouraged others to have one as well. Drake met his fiancee Jean in 1998. They traveled extensively together, and loved to play golf, cook, grill, laugh, and do the crossword puzzle together. They were planning a September 2012 wedding.

Besides his fiancee, he leaves behind his mother, Jane Slay, of Newport, R.I.; two daughters, Francesca Slay Molnar and Lily McLeod Slay, of Charleston, S.C.; two brothers, Dr. Robert Slay, of Palos Verdes, Calif., and Commander John A. Slay, USN (Retired), of Harleston, Miss.

The funeral service will be at Christ Episcopal Church, 4001 Franklin St., Kensington, Md., on Saturday, March 31, at 2 p.m. Interment immediately following the church service at Parklawn Memorial Park, 12800 Veirs Mill Rd., Rockville, Md. A memorial reception celebrating Drake's life will follow at Homewood Suites, 14975 Shady Grove Rd., Rockville, Md. In lieu of flowers, donations to his memory may be made to Virginia Military Institute Class of 1972 Scholarship Fund, P.O. Box 932 Lexington, Va. 24450.
Published in the Richmond Times Dispatch March 11, 2012