James Warren Rutherford - Faculty/Staff
1964/64 Yearbook 1965/66 Yearbook
Editor's Note: Many have wondered about James Rutherford and after years of searching and finding nothing, I was able to, one day this last spring (2015), really focus on the search and came up with tons of information about him!
Here is his obituary. Thanks to the library in Ogden, Utah for locating this for me! Below the obit is a lot more information I found out about him, his career, and his family prior to locating his obituary.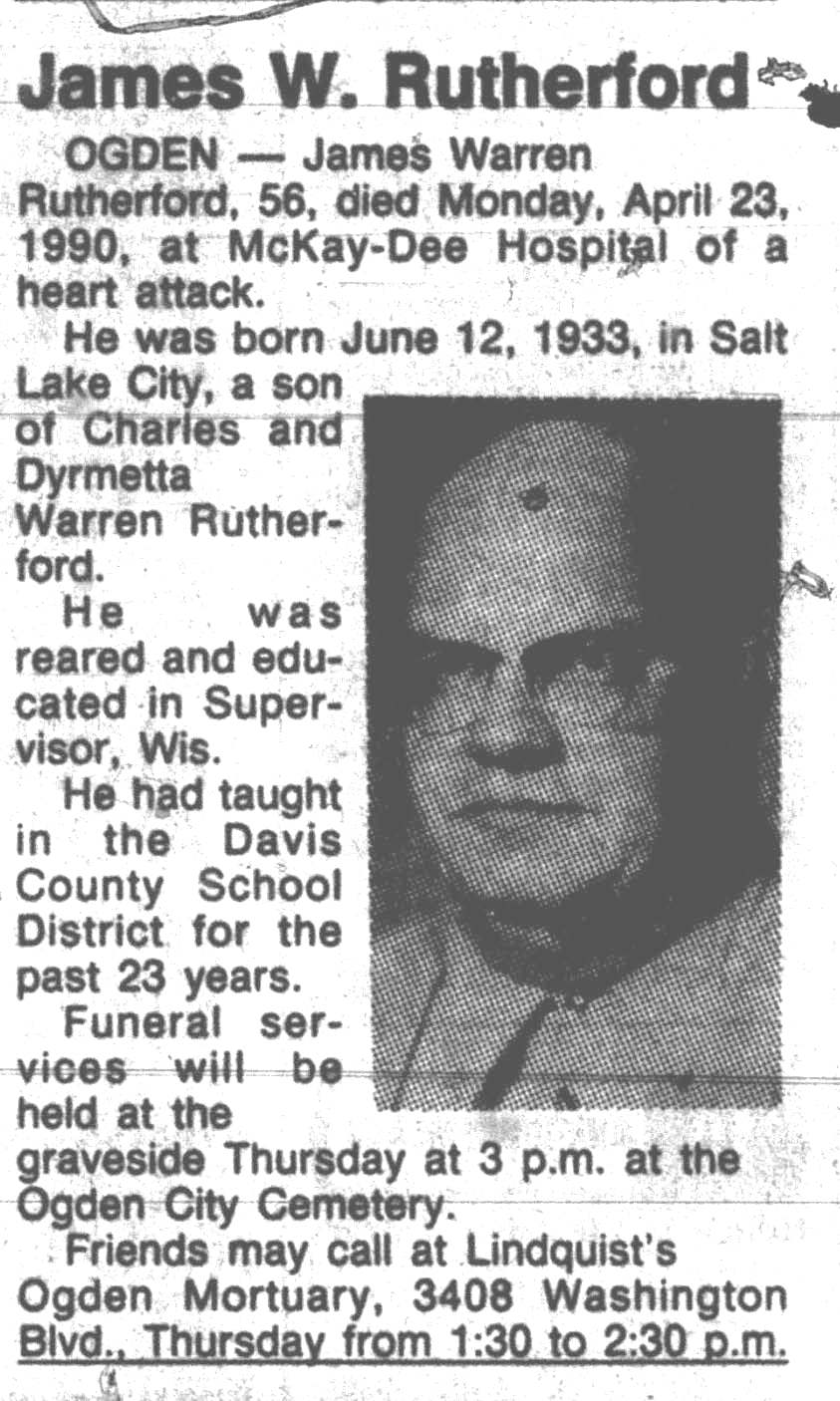 From my research:
Teaching Career:
Mound Fort School in Ogden , UT in 1960 (per City Directory)

Georgetown University in Ankara in 1960/61 and perhaps part of 1961/62 per article I found

Dreux AHS:
Dorm Counselor 1961/62
Dorm Counselor 1962/63
Teacher 1963/64
- Taught English and History; Yearbook says from Wisconsin ; grad from Wisconsin State College
Teacher 1964/65
- Taught English; Yearbook says grad from University of Wisconsin
Teacher 1965/66
- Taught English; Yearbook says grad from University of Utah

Clearfield HS in Clearfield , UT from 1966/67 to 1984/85
- per the Clearfield HS Yearbooks; taught English and Reading
- the photos of him in the yearbooks show that it is clearly him (couldn't copy any of the pages to post one here)
Family:
Biological Father: James Baldwin Black b. 3/7/1913
Biological Mother: Dyrmetta Bernice Warren b. 11/28/1915
**Not sure when they married, but they divorced 2/24/1933, 3 1/2 months before James was born (6/12/1933).

His mother married Charles Sherman Rutherford in Duluth, MN October 15, 1936.
Info on his step father (who raised him) Charles Sherman Rutherford:
Born November 1888 in Falls City, NE
Lived in Wisconsin for 45 years
Served as a Bishop, branch president and Sunday School Superintendent for the LDS Church in Superior, Wisconsin
Worked as a Railroad Engineer; retired in 1958
Lived in Ogden, UT 11 years (1959-1970)
Died 10/31/1970
His mother, Dyrmetta (also spelled Drymetta in some instances), died 9/2/1980

Sister: Karolyn Yuvonna Rutherford (Flood)
Born 10/26/1935
Lived in West Jordan, UT; had two children
Died 6/20/2000 in Layton, UT
She was quite the activist it appears (per some newspaper articles I found)
NOTE: not sure who Karolyn's biological father was, as she was born almost two year after James and her mother divorced Black, but a year before her mother married Charles Rutherford.

Interesting things I found:

There was an article in the Ogden newspaper (August of 1961) that said James was heading to Ankara to teach at Georgetown University in Ankara for his second year. Based on that info, he began teaching in Ankara in 1960/61. According to the 61/62 Dreux yearbook, James was listed as a dorm counselor, but his photo was not in the yearbook, just his name. So perhaps he came mid-year after they had taken yearbook photos. Just wonder why he left Ankara before the year was out.
James Rutherford's' tombstone in Utah says "23 years in teaching". It appears from the yearbooks at Clearfield HS that he stopped teaching in 1985. That would mean he started teaching in 1962. That's odd based on other information found on him (i.e. the City Directory from 1960 where it says he was a teacher in Ogden and the article about Georgetown Univ in Ankara) A mystery.