Janice Darby Puz '65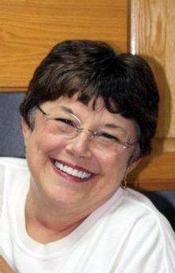 Funeral services for Janice Darby Powell age 65 of Columbia will be held 2PM Monday April 2, 2012 from the First Baptist Church in Columbia with the Rev. Eric Harriman officiating. Interment will follow in the Columbia Hill Cemetery under direction of Riser Funeral Home of Columbia. Visitation will be on Sunday evening April 1, at the funeral home from 6pm until 8pm, and again on Monday from 8am until noon at the funeral home.
Janice Helen Darby Powell was born on November 29, 1946 at Lawton, Oklahoma to the union of her parents James Edward Darby, Sr. and Mellie Elaine Seay Darby. She passed from this life on Saturday March 31, 2012 at the Willis Knighten Medical Center, North Campus in Shreveport. Known as Jan to her family and friends, she was preceded in death by her beloved mother, by her grandson, Adam Volentine, and by her son-in-law Ed James.
Jan was presently a Dietary Manager at Caldwell Memorial Hospital in Columbia. Jan was a graduate of the 1965 Class of Caldwell Parish High School, and was a Licensed Practical Nurse. Jan was loved by all who knew her and will be greatly missed.
Survivors include, her husband of thirty eight years, Dale Powell of Columbia; son, Darren Williams and wife Leann of Lafayette; daughters, Danielle Hutto and friend Jerry Gregory of Columbia, Janet Lawrence and husband Jackie of Columbia, and Lisa James of Columbia; her father, James E. Darby, Sr. of Columbia; brother, James E. Darby, Jr. of Monroe; sister, Evelyn Eden and husband Clay of Splendora, Texas; and her beloved grandchildren, Hali Williams, Dylan Williams, Fawn Hutto, Coal Hillestad, Laine Hutto, Eddie James, Lee Volentine, Hollie Worley, Eric Lawrence, and Kellie Ballard, and also nine great-grandchildren. Pallbearers include Mark Powell, Ralph Seay, Charles Newsom, Jason Parker, Bill Massey, and Bill Clark. Honorary pallbearers include Ikey Harris, Sheriff Steve May, J.L. Hall, Kevin Hutto, and Donnie Williams.