Keye, Leon Jr.,

68, passed away Monday, January 19, 2015.

He worked at General Electric Co. and retired from Southern Railroad.

He is survived by wife, Mary Ann Keye; children, Ashley, Corey and Brenton Keye; siblings, Pernecia Rief, Quenna Crosler and Verber Ealum Jr.; and a host of relatives and friends.

Visitation: noon - 2 p.m. Saturday at A. D. Porter & Sons Southeast, 4501 Bardstown Road, with funeral service to follow at 2 p.m. Burial: noon Monday at Lebanon National Cemetery. - See more at: http://www.legacy.com/obituaries/louisville/obituary.aspx?pid=173927533#sthash.8cndBDUz.dpuf
Keye, Leon Jr.,

68, passed away Monday, January 19, 2015.

He worked at General Electric Co. and retired from Southern Railroad.

He is survived by wife, Mary Ann Keye; children, Ashley, Corey and Brenton Keye; siblings, Pernecia Rief, Quenna Crosler and Verber Ealum Jr.; and a host of relatives and friends.

Visitation: noon - 2 p.m. Saturday at A. D. Porter & Sons Southeast, 4501 Bardstown Road, with funeral service to follow at 2 p.m. Burial: noon Monday at Lebanon National Cemetery. - See more at: http://www.legacy.com/obituaries/louisville/obituary.aspx?pid=173927533#sthash.8cndBDUz.dpuf
Leon Keye, Jr. '64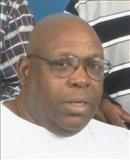 Keye, Leon Jr., 68, passed away Monday, January 19, 2015. He worked at General Electric Co. and retired from Southern Railroad.
He is survived by wife, Mary Ann Keye; children, Ashley, Corey and Brenton Keye; siblings, Pernecia Rief, Quenna Crosler and Verber Ealum Jr.;
and a host of relatives and friends.
Visitation: noon - 2 p.m. Saturday at A. D. Porter & Sons Southeast, 4501 Bardstown Road, with funeral service to follow at 2 p.m. 
Burial: noon Monday at Lebanon National Cemetery. 
Published in The Courier-Journal (Louisville, KY) on January 22, 2015
Editor's Note:  Leon passed away from cancer