Rex Ellington - Dorm Supervisor and Counselor (60/61)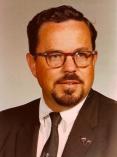 Rex H. Ellington passed peacefully in his Colorado Springs home on 31 March 2016, surrounded by his wife Janet (nee Rosing) and four children; he was 87.
Rex was predeceased by his brothers' Jack and Tom, and sisters' Wynona and Marion; the "Fab Five" are now re-united! He is survived by eight loving grandchildren, and many wonderful nieces, nephews and extended family members. Rex was a beloved father, husband, grandfather, teacher, cross-country coach…and friend to all.
Born to Harvey and Alice Ellington on 15 November 1928 in Azuza, CA, Rex was raised and worked on the family's orange grove, graduating from Citrus Union High School in 1946. He attended Whittier College and obtained a Language Major degree in 1951. Rex then enlisted in the United States Air Force, attended the Army Language School for Russian, and served as an Interpreter and Radio Traffic Analyst with assignments in Japan and the NSA; his awards included the Good Conduct Medal, National Defense Service Medal, Korean Service Medal, and United Nations Service Medal. Following his 1955 military separation, Rex attended Mexico City College where he learned Spanish. In 1957, Rex began his career with the Department of Defense Dependents Schools (DoDDS) where he worked as a dormitory counselor at Frankfort American High School until 1959, the Principal of the Anglo-American School in Moscow, U.S.S.R. from 1959-60, and a dormitory supervisor and counselor at Dreux American High School in France from 1960-61. While at Dreux, Rex met his wife Janet, another DoDDS teacher. In 1961, Rex and Janet married and then transferred to teach at General H.H. Arnold High School in Wiesbaden, Germany. In 1964, Rex began a fourteen-year adventure at London Central High School in England, becoming an integral part of the school's fabric where he taught Spanish, French and German. As coach of the London Central Cross Country team for many years, he presided over a dynasty of champion teams and runners that won the DODDSEUR Cross Country Finals in Europe and eight consecutive United Kingdom Cross Country championships; he was also an assistant Track coach, working with Martha Gail Kelly and Taylor "Big Coach" Lewis. While in England, Rex and his family lived in Northwood Hills until the last five years when they moved to Beaconsfield for one summer, and then finally to Bourne End overlooking the Thames River. The entire family moved to Colorado Springs, Colorado, in 1978. Rex was employed at Yellowstone National Park for two years, where he made many close friends. He then worked at McGraw-Hill in Colorado Springs with Janet until they both retired.
Rex was a great father and family man. He shared his love of travel by taking the family on summer vacations across England, Scotland, Wales, France, Germany, Holland, and Belgium, enjoying the many visual and historical splendors of Europe. On alternate summers, Rex brought the family stateside with grand road trips across America, ending at his mother's beach house in southern California. Summers were always unique, exciting…and generated many fond memories and strong family bonds! Rex enjoyed tinkering with automobiles, reading, and was extremely proud of his four children: Mark (Sue), of Marietta, GA; Donn (Ricki), of Pueblo West, CO; Holly (Stephen), of Reading, MA; and Bret, of Lake Forest, CA. The family will celebrate Rex's life later this year in California with his many beloved nieces, nephews and extended family members.