Ricki Kilanski '65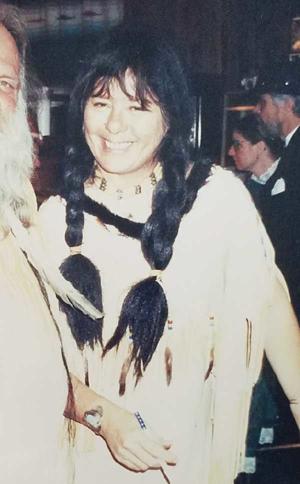 Raymona "Ricki" Ramstetter, 70, of Como, Colo., passed away on Wednesday, June 6, 2018, in Como. She was born on April 21, 1948, in Bangor, Maine, to Alex Joseph and Marcelle Messodi Kilanski. She married Jerry R. Ramstetter on April 14, 2003, in Victor, Colo.
Ricki graduated from Dreux American High School in France and went on to become the postmistress of Como as well as an art gallery owner.
She was a very active member of the Fairplay and Como communities and enjoyed history and art. She was the Como Civic Association and Como Bingo Treasurer, was on the Jefferson/Como Fire Protection Board and was a dedicated member of the Como Civic Association. Ricki was a successful business owner and was the founder of Bucksnort Saloon in Sphinx Park, Colo. She was a historian of Como and helped in the preservation of Como Schools. She was dedicated to serving in her community and also received the True Pioneer Award for South Park.
Ricki is survived by her brother Alex (Jennifer) Kilanski of Lancaster, Va; nephews Matthew Kilanski of San Diego, Calif. and Eric Kilanski of Chicago, Ill.; niece Allison Kilanski of Auckland, New Zealand; sister Anne Gulley of Golden, Colo.; nephew Wesley Gulley of Golden and niece Jeannie Gulley of Golden; sister Tracy Miller of Como; niece Katie Miller of Como and nephew Jesse Miller; great-niece Hanna Saavedra of Como; great-nephew Grady Miller of Como; stepson Ernest Ramstetter; granddaughter Tamara Carpenito and great-granddaughters Habana and Isis Carpenito. She was preceded in death by her parents and her husband Jerry.
A Celebration of Life Service will be held on Saturday, June 23, 2018 at 2 p.m. at the Como Civic Center in Como. A potluck reception will follow.
Donations may be made to ALS Association Rocky Mountain Chapter, 10855 Dover Street, Suite 500, Westminster, CO 80021, or at ALSACO.org in Ricki's name. Flowers may be sent to the Como Post Office, 614 Broadway, Como. Please visit www.kentfuneralhomes.com to leave a condolence or remembrance for Ricki's family.