Robert Allen Hale '61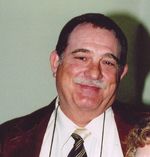 Mr. Robert Allen Hale, age 63, of Winnfield, La., passed away Tuesday, June 27, 2006, at his residence in Winnfield, La. Mr. Hale served in the U.S. Army and was a veteran of the Vietnam War.

He was was preceded in death by his father, Tom Hale of Winnfield; and his sister, Rita (Hale) Foockle of Springfield, MO

He is survived by his mother, Maxine (Melton) Hale of Winnfield, La.;

Two Nephews, Robert Thomas Foockle of Springfield, MO Christopher Allen Foockle and wife Carrie of Lake Charles, La.

One Niece, Victoria (Foockle) Williams and husband James of Springfield, Mo.

Special Friend and son, Mona and Matthew Heyse of Winnfield, La.

Burial:
Garden of Memories
Winnfield
Winn Parish
Louisiana, USA
Note: As per his mother, he died of lung cancer. I also found where he had worked as a Prison Guard in Louisiana.