Wesley Joseph Cease (Faculty)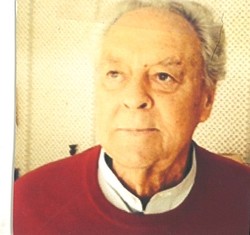 Beloved husband, brother , father, stepfather, grandfather, step grandfather and uncle, Wesley Joseph Cease died on Sunday, September 23, 2018 after courageously fighting cancer for eighteen years. He was born in San Mateo, CA on December 8, 1932 and spent his early years in northern California. He was a lifelong Christian, accepting Jesus as his Savior at a very young age.
Joseph was a gifted violinist and conductor who began violin lessons at the age of eight. This introduction led to a lifetime love of the violin. He became a college professor after earning his Master and PHD Degrees in Music Performance from the University of Southern California. Joseph spent six years in Europe teaching and performing. He had a discerning ear and was able to learn foreign languages with ease. He was fluent in German, French, Italian and was most recently learning Hebrew.
Conducting was his second passion in life. During his tenure of thirty years at Glendale College in Glendale, CA he formed an orchestra which evolved into The Symphony of the Verdugos, becoming one of the finest community orchestras in the Los Angeles area. His orchestra received the honor of performing at the prestigious Ambassador Auditorium in Pasadena , CA for five seasons. Among the distinguished guest soloists that performed with him was Lillian Steuber Goin, an internationally famous pianist and accompanist to violinist Jascha Heifetz. Ms. Steuber gifted Joseph with her extensive piano library. Joseph also enjoyed being a studio musician. Among his many guest performances, he played in the orchestras of John Williams, James Horner , Henry Mancini, James Levine, Jerry Goldsmith, and Leonard Rose.
Joseph treasured his family life. He and his first wife, Doreen, were blessed with three children: Aaron Wesley, Peter Helgi and Rachel Karina Roberg, who gifted him with two grandchildren, Hanah Marie and Patrick Sebastian. Joseph' s more recent wife of twenty-six years, Christine Finch (ease's three sons with previous husband George John Williams, of Houston, TX, are Nicholas George, Russ ell Phi lip, and Evan James. Joseph became "Papa" to her sons and to Christine' s five grandchildren, two step grandchildren and two "adopted" grandchildren. All of his children and grandchildren were grateful recipients of his big heart.
After moving to The Woodlands, TX in 1999 to be nearer to Christine's sons, Joseph remained active professionally, joining the staff of Montgomery Community College as well as offering private music lessons. He also performed at various community functions, including services at Congregation
Battzion. He served as a judge for one year at the esteemed Young Texas Artists Music Competition. Large in stature, as well as generous in spirit, Joseph loved doing things for others, acting as a servant to those in need.
Special thanks to the caregivers from Silverado Hospice. Eternal gratitude is extended to the Ceases' adopted Guatemalan family the Cordons: Gabriela, Marlon, Marlon Junior, and Benjamin for their loving sacrificial care.
Funeral services will be held on Saturday, October 6 at 10 a.m. at Klein Funeral Home, 14711FM 1488, in Magnolia, TX. Joseph' s Celebration of Life luncheon follows at The Woodlands Country Club (Palmer), 100 Grand Fairway Drive in The Woodlands, phone number 281-863-1400.